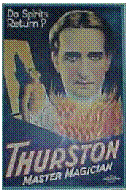 This is a Thurston Otis Lithograph. This is the only one known to exist!
Very rare image and just appeared in a great new Thurston book (as seen below)!
Note: This great poster says Thurston Master Magician!
This is one of only a few Thurston posters that actually say that!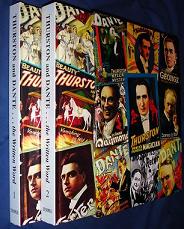 THURSTON and DANTE...the Written Word Volumes 1 and 2
By Phil Temple
Everyone should check out this great new book!
It is the reprint of the Thurston-Dante Letter set put out many years ago.
We here at www.ThurstonMasterMagician.com are happy to say that you will find a lot of very rare images of Thurston in this new book supplied by us! Thanks to Phil Temple for including these these great images from our collection in the books!
Copyright 2007 Rory Feldman Productions
Images Of This Thurston Item Of The Month Are From The TRFC And Cannot Be Used, Duplicated, Reproduced, Manipulated, Posted, Copied, Distributed In Printed Or Electronic Form Without Prior Written Permission From The Owner /Creator Of www.ThurstonMasterMagician.com