This is Howard Thurston's Eggs Extraordinary Top-Hat.
This is the top-hat that Howard Thurston used through-out his career while performing the classic "eggs from the top-hat" illusion.
The top-hat was pictured in the 1910 Strobridge Lithograph Company poster Eggs Extraordinary.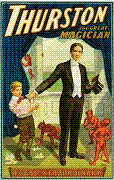 The poster as well as all of Thurston's posters can be seen by CLICKING HERE.

The Original Eggs Extraordinary Top Hat Is In The Rory Feldman Collection (TRFC)
Copyright 2006 Rory Feldman Productions
Images Of This Eggs Extraordinary Top Hat Are From The TRFC And Cannot Be Used, Duplicated, Reproduced, Manipulated, Posted, Copied, Distributed In Printed Or Electronic Form Without Prior Written Permission From The Owner /Creator Of www.ThurstonMasterMagician.com