At the bottom of the the letter Earl Davis gives Carl Lohrey 4 tickets to see the Thurston show in 1923.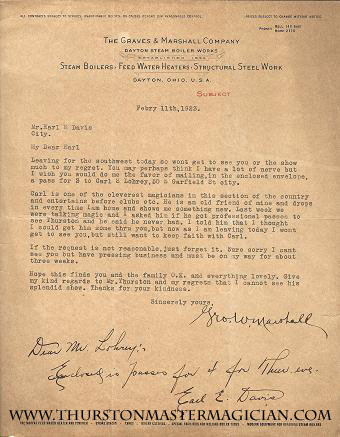 Shown below are the 4 tickets to see Howard Thurston. The tickets were from February 15, 1923. Also, note that these tickets were to sit in Row A, seats 3 through 6. Front and center for the Wonder Show of The Universe!
Shown below to the left is a photo of Earl Davis. He was at one point Thurston's manager.

Shown below is a S.A.M. (Society of American Magicians) membership card for Carl Lohrey from 1928. Note the signature of Howard Thurston as President of S.A.M. at the time.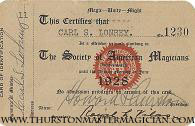 Copyright 2007 Rory Feldman Productions
Images Of This Thurston Item Of The Month Are From The TRFC And Cannot Be Used, Duplicated, Reproduced, Manipulated, Posted, Copied, Distributed In Printed Or Electronic Form Without Prior Written Permission From The Owner /Creator Of www.ThurstonMasterMagician.com